Addiction is one of the most common social problems in Iran today, which results in numerous negative social consequences such as child and women trafficking, forced labor and participation in drug trade and addiction. In addition to the collapse of thousands of families and the loss of their lives, this dilemma has become a crisis that has violated the provisions of the conventions protecting the rights of children and women in the country. A large number of people, who occasionally die in the cold winter along the streets of big cities, are witnessing deaths everywhere and the outbreak of dangerous diseases, such as AIDS and hepatitis in areas involved in drug addiction is further proof of this claim.
The plan's background
The program began in 2009 with the goal of eradicating drugs and addiction in Iran. The members of the project reviewed the state of addiction from October to December of the same year with identifications in the high risk areas of Tehran. The reports presented at university conferences in 2009 at Tehran, Sharif, AllameTabatabai, Azad universities and Shariati Hospital were shocking. In 2009, Imam Ali Popular Students Relief Society, with emphasis on the ideas of the uprising of Imam Hussain (AS), arranged a ritual on the evening of Ashura called "Sham-e Ayyaran". In this tradition and at DarvazehGhar neighborhood, about 300 students from Tehran universities announced their aversion to the existence of social problems and condemned the situation of addiction in Iran, calling on people and authorities to take action as soon as possible. In their slogans, the student population invited drug addicts to put aside their addiction and to start a healthy life, and as a result, about thirty people were introduced to addiction treatment camps and were able to put aside their addiction.
The plans ideology
"Sham-e Ayyaran" ritual takes place during the month of Muharram. It is based on Imam Hussain's (AS) ideology during the uprising of Ashura against the oppressor Yazid, and states that Yazid of today's society is in fact drugs and addiction, and in order to condemn it, one must break the silence and rise against it just like Imam Hussein (AS) did. In order to implement this plan, socially aware students and people are invited to bravely rise and gather to build a land free of addiction, offer their hands to those in need and those who are severely damaged by addiction, and condemn those who spread addiction in this land. This ritual, with its main motto being: "Why does a society which has Imam Hussein have addiction in it? ". The society should ask itself while it holds pride in following the culture of Imam Hussein (AS) and Ashura, why it doesn't pay attention to the issue if addiction in Iran?
Why should a society that has Hussein (AS) have addiction?
The plan's programs
Provide information on the critical and pervasive state of addiction in society
Public statement of aversion to the incidence of addiction in society
Assistance to children and women involved with addiction within their families or living area
Assistance to addicted children and women
Inviting addicts to voluntarily withdraw from addiction and supporting them in collaboration with other active NGOs in the field
Efforts to modify and amend drug laws
Implementation steps and details
"Sham-e Ayyaran" ritual takes place during the night of Ashura, with members of the Imam Ali Society voicing hatred towards addiction in one of the most problematic areas of each city throughout the country. In this program, addicts are also invited to be volunteers for overcoming addiction, and if they accept, Imam Ali society will fully support them and their families. This ritual tries to hold this program annually in order to turn the attention towards this problem and indirectly affect its reduction and elimination by emphasizing that we are all responsible for what happens in our society.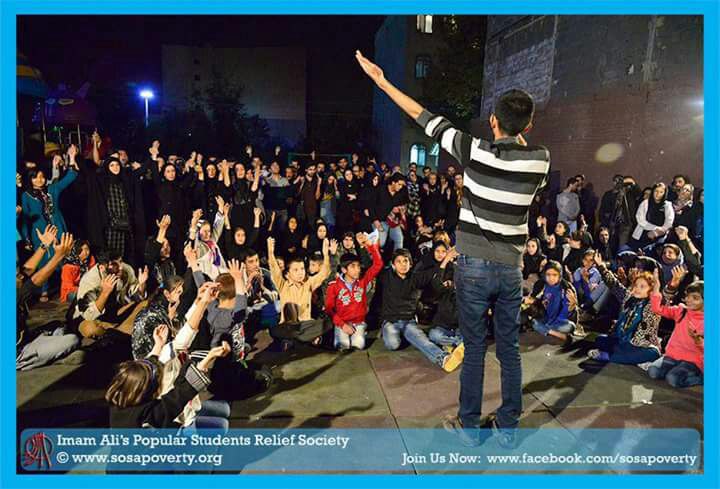 On the other hand, the plan of Sham-e Ayyaran ritual collaborates with active NGOs in the field of addiction throughout the year, and introduces the volunteers who are under the support of the Imam Ali Society to them, and follows up their rehab process and the situation of their families. This plan holds conferences during the year in order to introduce and make notices with the aim of addiction prevention in the society. In this way, Imam Ali society holds classes to train the members in dealing with people and their families who are affected by this problem.
The responsibility of the addiction section in Imam Ali society is somewhat with the Sham-e Ayyaran plan, and since addiction is an inclusive issue in the society, this plan has interactions with other plans and especially with the section of handling families and the people who are under the support of Imam Ali society and are dealing with addiction.
Plan requirements:
The most important requirements of this project can be classified into two parts:
Therapeutic centers and addiction treatment camps which are supposed to offer free of charge services to the volunteers on behalf of Imam Ali society.
Entrepreneurship and employment centers so that they can be introduced to the volunteers after they overcome addiction so that they can get a job there, because according to research, unemployment is the main cause of addiction.