The first session of the workshop for teaching methods of math and literature for the first and second grades of elementary school was held in Kermanshah. The workshop's audiences are coaches of Iranian Home and it was held in the fan club of deprieved children. Because of continuing Corona outbreak and the substantial lack of cell phones and online classes for children, some classes are held in the Iranian Home of Jafarabad and Zoorabad for children who missed their classes. Classes are held privately with few students and observing health protocols.
Art classes of Iranian Home in Jafar-Abad, Kermanshah. Aban 1400 (November 2021)
Iranian Home's art classes are not simply a class. These classes provide confidence, self-worth, and positive identity to children who have suffered from social harm.
1000 meters of hope and entrepreneurship,200 sheep provide for thousands of families under the foundation's support.
This promising project was constructed during a year of continuous effort, with fruitful goals such as providing food for supported families and sustainable and effective entrepreneurship. The highlight of this project will be its revenues to provide effective and ongoing support to children and their families.
It is hoped that we will bring prosperity and hope to the families by continuing such activities.
Mr. Sharmin Meymandinejad: This is something that never dies. Someone's heart is now lit and has come from darkness to light, from despair to hope, from sin to virtue, and has found peace. We don't live in this world for worldly materials, we live here to light up people's souls. Our bodies will disintegrate and what will sprout is beautiful light after death. Good for people who understand the philosophy of life through death. And the only thing that remains is the heart of a lover. The world could become heaven with the presence of people if they don't forget their god and remember their position in the world. I want from each of you, noble people, to build your heavens through the smile of children.
Parts of the speeches of Ms. Zahra Rahimi and Mr. Sharmin Meymandinejad at the inauguration ceremony of the livestock project (200 sheep) of Imam Ali Spcoety in Kermanshah.
The project of getting help from educated and talented children supported by the Imam Ali Society, and strong and capable people in the neighborhood, along with volunteer members of the Society was initiated to hold classes at the Jafarabad Iranian Home in Kermanshah.
Due to the departure of Kermanshah from the red situation (high number of Covid cases) and the abandonment of many students from school (due to lack of phones, etc.), it seems necessary to hold special classes following health guidelines with few students.
Yesterday's Children of the Society
 Today's coaches of Iranian Home
 Tomorrow's professors of the country's universities
Beginning of the book reading project in Jafar Abad of Kermanshah
The children who live in poor suburb areas are having such a difficult time throughout the day, which makes them forget all about their childish world.
This plan can help children to get back to their world at least for some minutes per day.
Here books will be lent to children every week. Then they will be asked to read the book and write a summary about what they read. Through this book reading plan, we hope that our children will also learn about borrowing culture at the same time that their writing and reading skills are being developed.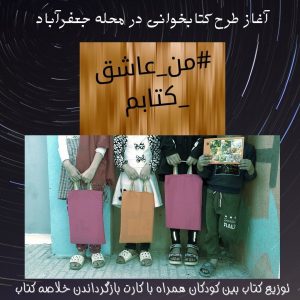 the project of establishing a 200 unit husbandry in Kermanshah by the Imam Ali Society
During the year, in various Imam Ali Society projects, several billion tomans are spent on providing food for the families as well as the daily hot meal for the supported children.
The production of some of this food in Imam Ali Society, in addition to economic savings, lowering the risk of financing and increasing the food security of families, creates a cycle of direct and indirect entrepreneurship among families who can also benefit from the sale of these products that supported many children in terms of tuition etc.
In this regard, the project of establishing a 200 unit husbandry in Kermanshah by the Imam Ali Society has started and its construction is underway.
#Entrepreneurship
#Production
#Supply_of_foods
Report of the completion of the third house of the affected people of #Earthquake_Kermanshah by Imam Ali Population in Kermanshah
The third house belongs to a family of six with two sons and two daughters. One of the boys is ill and the other is a student; the girls are normal. They have lived in a 10-meter donated hut since the earthquake and even have trouble sleeping. They have spent all the money they had on rebuilding the house but could only raise the skeleton.
With the help of the Population, the roof of their house was completed and the skeleton reinforced with iron bars.
The necessary materials have also been purchased and the walls have been started to build up and will be finished in the coming days, hopefully.
All the family members are helping to build the house to save labour expenses.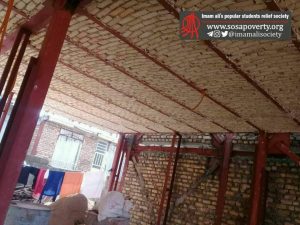 Completion of Kermanshah Earthquake Damaged Homes in Salas city through Imam Ali population.
Continuation of helping to complete damaged houses due to Kermanshah earthquake in Salas city through Imam Ali population.
#second_home ceiling , before and after waterproofing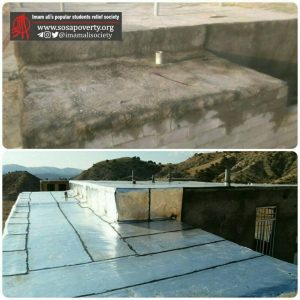 Bags full of love, hope, and kindness to human beings
Distributing 200 bags of food, worth more than 500 million Rials, along with the distribution of fresh meat for families supported by Imam Ali Society of Kermanshah in Jafar Abad, Shahyad, Zur Abad and other neighborhoods of this city.
Items in each bag include:
– Rice
– Oil
– Chicken
– Lentils
– Macaroni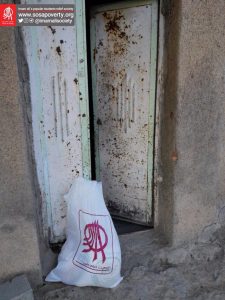 new_bike campaign
36 bicycles donated to kids and teenagers in Kermanshah province (the region was vastly affected by the earthquake in 2017) in the #new_bike campaign (#دوچرخه), a collaboration between Imam Ali Society and 'Spread of Peace and Small Kindness Foundation'.
IAPSRS funded the program so that 36 bicycles were given to kids in Javanrud, Salas-e Babajani and Paveh cities.
#activity_report
ID: @imamalisociety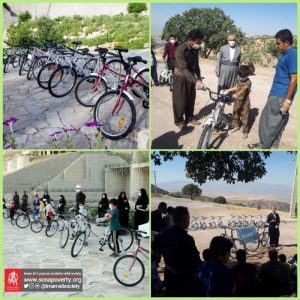 https://sosapoverty.org/wp-content/uploads/2020/11/photo6046544913560089345.jpg
800
800
تیم سایت جمعیت امام علی
https://sosapoverty.org/wp-content/uploads/2019/04/LOGO-01-01-300x81.png
تیم سایت جمعیت امام علی
2022-01-20 10:30:20
2022-01-20 20:50:47
Kermanshah Iranian Home