Puberty workshop
Due to the special importance of the sensitive and critical period of adolescence, last week in Molavi's Iranian Home, a puberty workshop was organized by the treatment team in collaboration with a volunteer doctor for adolescent girls and their mothers.
One of the main goals of this workshop was to increase the level of information about menstruation and related issues.
In the end, the questions of the participants were answered and a gift package was provided.
Denying thousands of children
Denying thousands of children means denying a world which is full of enthusiasm; the simple and colorful world made with love; To deny thousands of children is to deny hope, a hope that in the shadow of the bitterness of life, has tried to germinate and find its own way; To deny thousands of children is to deny us, who were born into the glorious body of man; ‌‌ #Denying_thousands_of_children means denying life …
#Imam_Ali_Society
#Iranian_Home_of_Molavi
Social_Entrepreneurship
Job creation in the suburbs, a way to reduce black markets, child labor, and corruption.
Entrepreneurship in Imam Ali Society started in 2012 at the Iranian Home of Molavi. The purpose of forming an entrepreneurial team was to create jobs for mothers who head their households. Due to lack of jobs, they were facing problems such as their children's deprivation of basic rights like education, or turning to black markets and sometimes prostitution and corruption, or being forced into fake jobs.
Finally, with the aim of eliminating or correcting these problems in the suburbs, the Imam Ali Society has promoted entrepreneurial activities in other Iranian Homes, and as a result, so far entrepreneurial activities are ongoing in 24 homes with 15 brands.
Also, the entrepreneurship committee in Imam Ali Society has started working in 2019 with the goal of planning, facilitating, and synergizing in matters related to the establishment and development of entrepreneurial units.
The entrepreneurship committee includes sections such as product design, sales and marketing, finance, performance assessment, and evaluation of new business plans, and it continuously monitors the entrepreneurial units.
#Employment
#Social_Entrepreneurship
@imamalisociety
Stay together in difficult days
An instructional session was held with the presence of the Molavi Iranian house trainers.
The instructional session was held on hygienic issues to prevent the incidence of the Cronaviruse among children and their families.
Due the considerable importance of this subject , the instructional classes were held in different times with a few people.
In these sessions, held on Sunday 4th Esfand , the trainers taught all urgent tips on how to wash hands, use masks correctly, and nonappearance in the crowded places and so on to the Iranian house families, their children, and Iranian teenagers one at a time.
The trainers of the Molavi Iranian house hold themselves responsible for instruction and raising awareness without excessive stress and do not leave their children alone under no circumstances.
Besides the families were given liquid soap and oranges at the end.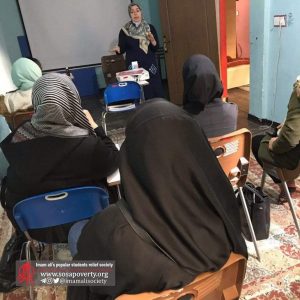 https://sosapoverty.org/wp-content/uploads/2020/03/photo1648487439-2.jpeg
720
1080
تیم سایت جمعیت امام علی
http://sosapoverty.org/wp-content/uploads/2019/04/LOGO-01-01-300x81.png
تیم سایت جمعیت امام علی
2022-04-04 12:15:53
2022-04-04 12:20:35
Molavi Iranian Home