Celebrating the Iranian Festival, Yalda, with Deprived Children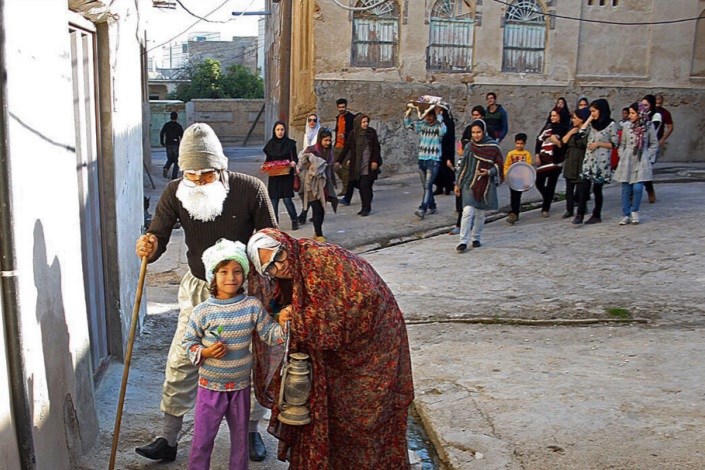 "Yalda" is the name of the longest night in the Persian calendar. On this night, based on an ancient Persian tradition, people visit their families and celebrate Yalda with fruits and different nuts until the crack of dawn. However, on this long cold winter night (the longest of the year), while most Iranians are celebrating Persian culture and traditions, many children are abandoned to work on the streets, while shivering in the cold and lonely streets of the city. These innocent children, who usually live in deprived neighborhoods, spend their days and nights scavenging the garbage, begging and selling flowers, tissue papers, and etc. on the streets.
On the night of Yalda, while many of us are spending the time with our families and friends, socializing and having fun while eating nuts and fruits and reading Hafez's poetry, most of these children are shivering in the cold, left alone and abandoned to work through the night without having anything to eat.
Since 2013, Imam Ali popular student Relief Society has started a campaign to organize a festival for these children on the night of Yalda, aiming to share the celebrations of this night with these kids in their districts. In this event, volunteers of Imam Ali society spend the night of Yalda, which is one of the most important nights in Persian culture, among these children and hold fun and entertaining programs for them in a memorable celebration. They all then sit together around a table specially laid out for the night of Yalda and eat winter fruits, sweets and nuts. Also, on this night, all the children receive gifts and participate in many friendly competitions and games. The children themselves usually take part in holding some of the different events on this night.
One of the most important objectives of this plan is to be with these children who have nobody to visit or spend this night with; as well as celebrating with them and putting smiles on their innocent faces. We also aim to give voice to these children via the corresponding reports that we release regarding the loneliness of these children in our society and try to reach this voice to the ears of those authorities and each member of the society who are deeply asleep, and urges them to take a step towards relieving the pain of these innocent children.
This plan is also a starting point for more active presence of our volunteers, allowing them to interact and become friends with the children who live in deprived neighborhoods. Meanwhile, celebrating the night of Yalda with these children, our volunteers distribute Yalda food packages, including fruits, nuts, sweets, and dinner amongst the child laborers in an effort to place a smile on their faces and at least for one night, relieve their sorrow and loneliness.
Another narrative of Yalda:
– Do you know tonight is the night of Yalda?
  +Yalda? Yalda is my sister's name, who sells flowers over on the streets!
– Do you know what time the new year will begin?
  +Yes, it's at the moment that I become Haji Firooz on the intersection, but I don't want to earn money by performing in front of people and trying to make them happy.
We stepped into the streets in where you could touch the loneliness of the children, to invite the children to Yalda celebration. The first celebration that had ever been held in Darvazeh Ghar neighborhood! The children were unfamiliar with the word "celebration". A middle-aged man said: "We are the forgotten ones of this city, we had forgotten Yalda". He smiled while looking at the red watermelon and added: "You brought light to this neighborhood. After a long time, tonight we feel like someone remembers us". In 2007, Imam Ali Society decided to hold "Yalda in the streets of poverty" rite. An event that intended to be a rite for the distribution of happiness in order to promote sympathy, and a blessing children. An event in which light battles darkness on the longest night of the year, and we respond warmly to the greetings of those in need with the arrival of winter.
They were desperately standing behind the door; full of childish passion, they came in and filled the environment with love. They placed all their watermelons, beetroots, beans, nuts, sweets, and pomegranates into their bags and when we asked them why they didn't eat them here, they answered: "We have to take these home so that the others can eat some too". And this answer left us astonished with the amount of love and kindness these children have, even towards a father who has destroyed their childhood with addiction to drugs.
Yalda holds every year and becomes bigger and bigger each year. Such that by 2015 and 2016, it was held in most cities and provinces such as Isfahan, Amol, Karaj, Sari, Gorgan, Zanjan, Bushehr, Kermanshah, Mashhad, Shiraz, Qom, Sistan Baluchistan, Kurdistan, Ilam,… And everybody rushed towards the children of their cities to make them happy.