Packaging 252 sanitary packages for supported families by Imam Ali society in Mashhad to Prevent # Corona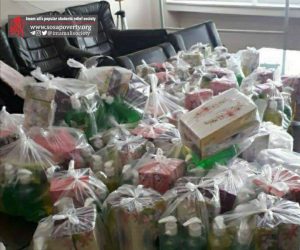 Distributing hygiene packs in Shahriar Iranian Home in battle against #Crona
These packs included latex gloves, hygiene hand-gel, liquid handwash and 1kg orange, and were distributed among 89 families with educative brochures in Vire & Nasir-Abad neighborhoods.
Families' lack of knowledge regarding this virus and kids wandering out, especially in areas with improper conditions, is of concern.
contacting Iranian Home in Vire, Shahriar :09059824502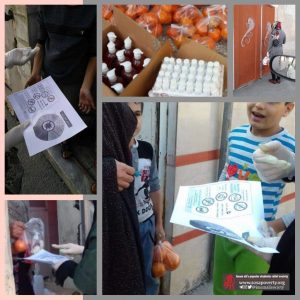 Imam Ali's Tabarsi Iranian Home
Following the outbreak of Corona Virus and the probability of higher vulnerability among residents of underprivileged neighborhoods for lack of proper awareness of the existing risks, Imam Ali's Tabarsi Iranian Home members in Mashhad, have done the following services:
1 Distributing Vitamin Supplements among youth and children to boost their immune system.
2 Holding educational workshops to prevent catching Flue and Corona for kids and providing masks for the attending kids.
3 Educating families through phone calls to inform them about the disease symptoms, preventive actions, ways of transmission and the importance of recourse to doctors.
4 Attempt to convince the families who has a labor child, to prevent them from working in the public areas, at least during the outbreak of the virus.
Ahead Actions
1 Daily call to families and kids to remind them about the importance of observing hygiene tips
2 Distributing hygiene packs
3 Poster installation in the neighborhood for the sake of awareness.
Imam Ali Society Iranian Home, Sa'dieh, Shiraz
Photos of food and hygiene product packages, offering advice on protection measures, and package delivery to families to prevent infection by #Coronavirus in Imam Ali Society Iranian Home, Sa'dieh, Shiraz
We have not forgotten the families living in slum areas
With the outbreak of Coronavirus, following up with and educating families is the top priority for Imam Ali Society. Location: Slum areas in Pishva, Varamin
Giving instructions to prevent #Covid_19 and distributing hygiene packs in Iranian Home of Ghasre-Ghand and the surrounding villages.
Look closely
To see where the sun rises from;
From the most eastern spot of the geography of kindness,
There sunshine
Might say hello to the world from within hands of a Balooch woman.
Instructions as to how prevent #Covid_19 and distribution of hygienic items in marginalized regions of Bushehr, by IAPSRS members.
From medical and hygienic aspects, vulnerable classes of society are more endangered. Their living conditions having been ignored by responsible institutions and malnutrition make them all the more prone to catching #Corona, and sufficient information being inaccessible render these people more frail in this situation. Attending to these classes and their needs must be prioritized in such situations.
Imam Ali Society in Boomumahen
Photos of different phases of packing and distributing hygienic items and foods in order to the prevention of Coronavirus between the families that are supported by Imam Ali Society in Boomumahen
Distribution of health and nutrition packages for deprived families in order to fight corona virus and careing for vulnerable groups of society.
In addition to distributing packages, comprehensive information on haw to deal with the corona virus, how to wash hands, disinfecting surface and safe shopping were taught by Imam Ali local members.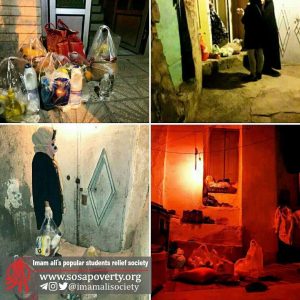 Members of Jamiat-e Imam Ali's attendance in waste separation workshops at Karaj and distribution of health and nutrition packages to children, adolescents, and others in these workshops and providing health tips to prevent # Corona. Protecting the deprived communities in these difficult conditions is the human duty of all members of society and all the institutions and Organizations.
Reportage on classes which held on winter during 1398 at Iranian Home in Pishva. (These activities had all been performed before #Corona_virus outbreak in Iran.)
Phone: 09192626770
The clinic of Imam Ali society is operating to treat

#dentistry

emergency cases.
In order to reduce the chances of being infected or spreading
#Coronavirus
, the following precautions are taken at the clinic:
Initially, the body temperature is measured using a thermometer and the protective face masks are then given to everyone. The public and personal health instructions are explained and children are asked to wash their hands regularly with soap and water. To protect both visitors and our team, #social_distancing is implemented among people.#Imam_Ali_Society
 This house is shining
:small_orange_diamond: A gradual reopening of Iranian Home at Shahr-e Rey (#Qaleh_Gabri) is started after 4 months of closure due to the outbreak caused by #Coronavirus. This brings joy and enthusiasm to our children resonated in their voices.
Considering the importance of effective and face-to-face communication with some of the children and adolescents, our team decided to organize a limited number of educational classes in this center. In order to prevent the spread of infection, all classes will be held in accordance with the instructions and guidelines provided by the health authorities.
Phone: 09193707783
Khaksefid Iranian Home activities during #Corona
caption 1: activities of education, extracurricular, and sports team at Khaksefid Iranian Home during #Corona pandemic.
caption 2: distribution of exclusively designed magazines and storybooks for school and high school students.
caption 3: distribution of magazines and sanitary packs among kindergarten kids.
caption 4: online education for some high school students.
caption 5: reviewing sessions before final exams with respect to physical distancing.
caption 6: drawing courses in form of video clips for some high school students.
caption 7: girls' physical challenges during the quarantine.
https://sosapoverty.org/wp-content/uploads/2020/02/image1-3.jpeg
917
1080
تیم سایت جمعیت امام علی
https://sosapoverty.org/wp-content/uploads/2019/04/LOGO-01-01-300x81.png
تیم سایت جمعیت امام علی
2020-09-13 20:15:25
2020-09-13 23:18:27
Imam Ali Society Actions to Reduce the Prevalence of Coronavirus